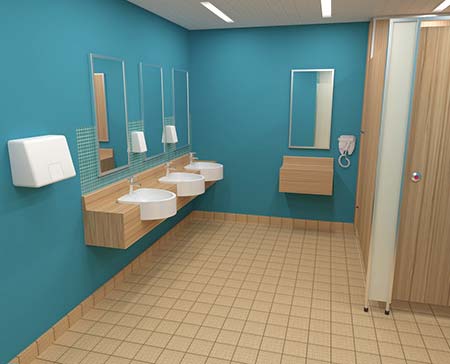 Our ceramic tiling services in Cardiff can install tiles not only for your floors, but for walls, backsplashes, showers, and more. They are ideal for backsplashes in the kitchen because any type of splash can simply be wiped off with a damp cloth. Many people have ceramic tiling in Cardiff for that very reason.
Ceramic tiling can be fixed on walls and laid on most floors in any type or pattern that you wish, and there are many, many high-end designs that will make your home look incredible and the envy of your friends. However, our ceramic tiling services do more than simply make your home look beautiful: they are environmentally friendly too. Ceramic tiles are made of sand, clay, and glass, and many use recycled material as well. They can also help to keep your home cooler in the summer.
Our ceramic floor tiling in Cardiff is designed to withstand moderate to heavy foot traffic and doesn't scratch and is so easy to clean. Just brush or vacuum the floor and wipe over with a damp mop. Job done! Keep a few extra tiles spare in case you drop something heavy on the floor and crack one. Just call on our ceramic tiling services to come over and replace it for you.
Specialising in natural stone and ceramics
Ceramic tiles are a simple and highly effective way to completely transform the look and style of your home or working environment.
Technology and integrated development in the manufacturing of ceramic wall and floor tiles has created vast and versatile choices of colour, textures and outstanding finishes.
With a wide range of products, such as Porcelain, Marble, Granite, Limestone and Travertine, work places are being transformed into highly fashionable decorative areas…
homes into luxurious desirable living space.
The simplicity of open tiled floor space creates beautiful palatial surroundings for everyone to enjoy.
Our highly skilled and passionate team at Weston Decorators will discuss and design the latest concepts in ceramic tiling, a bespoke tiled system to meet all your aspirations and desires.
Discover the other side in decoration…